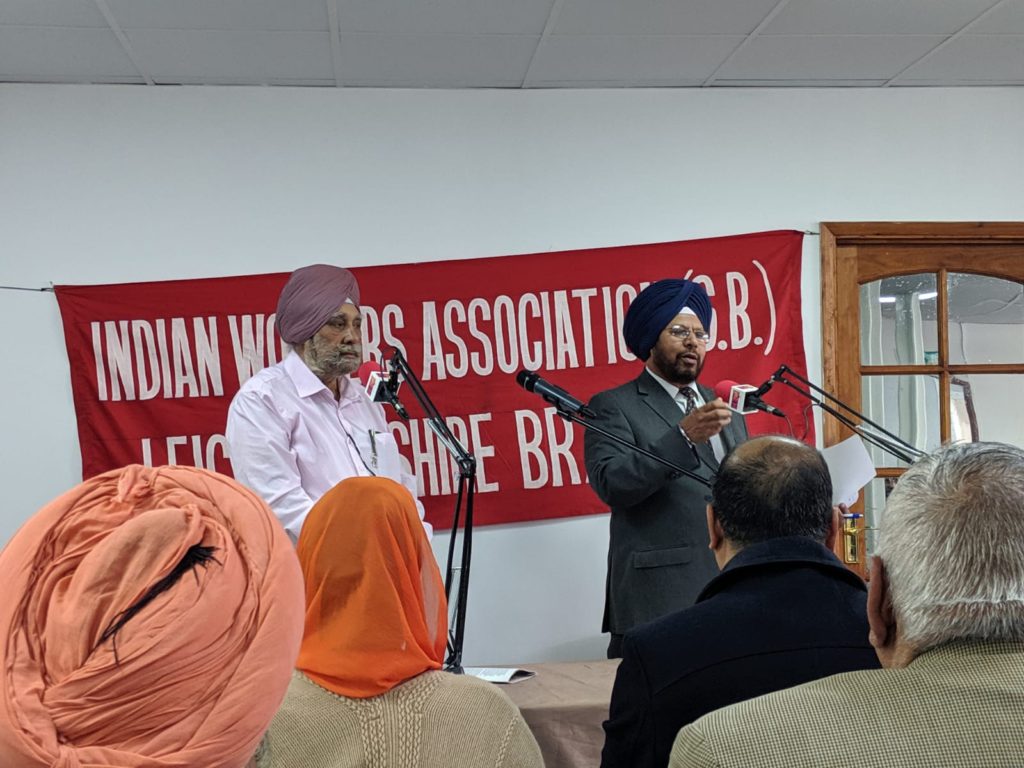 Indian Workers Association (G.B) and Kohinoor Radio 97.3 FM held a very successful meeting commemorating 100 years of Jallianwala Bagh & 35 years 1984 Sikh Massacre. Over 120 people attended the meeting. It was also broadcast in Leicester on 97.3 FM and globally on www.krfm.co.uk and documentary made by Akaal Channel TV.
Speakers from Indian Workers Association (GB) from Leicester, Coventry, Southall, East London and Birmingham, local councillors, representatives from many Sikh Gurdwara (temples) from Leicester, along with other progressive organisations and the community addressed this historic event. Many local poets also filled the atmosphere with patriotic sentiments, the spirit of justice and well-being of humanity.
Speakers gave a historical account of Jallianwala Bagh massacre, genocide during the attacks on the Golden Temple in 1984. genocide of Sikhs in Delhi, Communal carnage of Muslims in Gujarat in 1992, and many other examples of genocide against the people of India as well as other Countries. The speakers gave many historical examples of the use of state terrorism and genocide in trying to crush the people's struggles for freedom and independence.
Everyone expressed solidarity in opposing all forms of genocide of innocent people, opposition to violation of human rights and state-sponsored communal violence. The speakers applauded the sacrifices of patriots of the Ghadar Party, Shaheed Udham Shaheed, Kartar Singh Sarabha, Bhagat Singh and others fighting for genuine freedom and real democracy. Our beloved Patriots envisaged a system looking after the wellbeing of working people and other toiling sections. A society free from exploitation of the labouring masses. Only such a system can truly end genocide of freedom loving people. The struggles for the fulfilment of these dreams and aspirations continues!
The speakers emphasised that there should be no repeat of the Jallianwala Bagh massacre and any form of genocide of innocent people. The meeting ended with a resolution demanding a full independent inquiry into the massacre of Sikh in 1984 and an apology from the British Government about Jallainwala Bagh massacre.