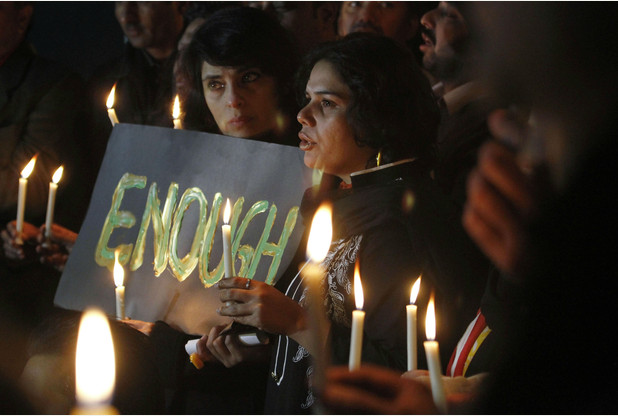 Communities in Leicester have condemned the slaughter of 132 children and nine teachers in the Taliban terrorist attack.
The killings were carried out on Tuesday by nine gunmen at a school for the children of the Pakistan military in Peshawar.The horrific pictures of the dead and wounded have drawn condemnation from political and religious leaders around the world.In Leicester, Bishop Tim Stevens, spoke of his sadness and distress at hearing the news of the Taliban attack on a school.
In a message to the Pakistani community in Leicester he said:
"This attack has caused great pain both in Peshawar and around the world.
"Here in the city we share your deep grief for young lives so tragically lost. Please be assured of the thoughts and prayers of the Christian community at this most difficult time for you."
City Mayor Peter Soulsby said: "The events in Peshawar are appalling – and every parent's worst nightmare,"
He added: "Our hearts go out to the families and friends of those who died, and also to those in the Pakistani community in Leicester who will have been devastated by the news."
A spokesman for the Federation of Muslim Organisations Leicestershire said: "Our thoughts and prayers are with the parents and families of the 132 children massacred in a school in Peshawar and the scores of children and teachers injured by this horrific violence.
"We condemn this appalling act against innocent children who sought nothing more than education and knowledge."
Mass funerals and prayer vigils for the victims were held yesterday (weds)
Gunmen had walked from class to class shooting students in the Pakistani Taliban's deadliest attack to date.
Pakistan Prime Minister Nawaz Sharif declared three days of mourning over the massacre.
He also announced an end to the moratorium on the death penalty for terrorism cases.
Sitar Singh Gill, General Secretary of the Leicestershire branch of the Indian Workers Association joined int he condemnation.
He said: "We strongly condemn this horrifying massacre which killed 141 people including 132 children."
Mr Gill, who represents 3,500 members, added: "We are very angry and deeply shocked to hear of this news. We ask communities to unite together against terrorist groups.
"We also voice our deep condolences to the children's families who are suffering so greatly at this time. This incident is a great loss to the world community."
Read more: http://www.leicestermercury.co.uk/Taliban-massacre-Peshawar-condemned-Leicester/story-25727877-detail/story.html#ixzz3OoGXAjFW
Follow us: @Leicester_Merc on Twitter | leicestermercury on Facebook